MAC Hey Sailor Collection officially made its debut in stores last Thursday. The collection has a whimsical nautical theme with blue and white stripes. All of the items beside the 167SH brush have special packaging, thus the higher price tag. I checked out the collection at Nordstrom since it was launched a day earlier compared to everywhere else. I took home a couple of the items that I thought were somewhat pretty or unique.
>
First up is the Highlight Power in Crew ($29USD). It consists of a creamy beige shade with orange, pink, and purple stripes. The look of this powder is a bit deceiving because the different color stripes are not oversprays. In fact, if you scrape the first layer off, you'll find that it goes all the way through.
The powder has very fine shimmers that can be seen in bright sunlight.
Can you detect the fine shimmers?
I also picked up Jaunty eyeshadow ($16USD), the most neutral shade out of the 4 that was offered in this collection. Jaunty is a light golden brown beige with a frost finish.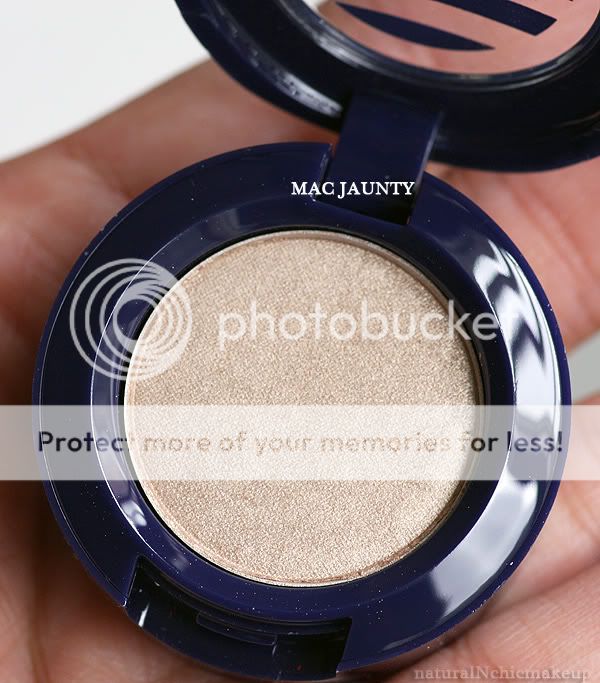 I thought the texture of Jaunty was simply divine. It is buttery smooth to the touch.
Unfortunately as beautiful as these item appear to be in the pan, they are simply not flattering on my skintone. Jaunty swatches beautifully on my hand but was virtually undetectable on my eyes. I think this is best as a brow highlighter for now.
Crew Highlighting Powder turns out as a cool tone barbie pink on my cheeks. In order to make it work, I have to add a warm tone blush on top, which completely defeats the purpose. I think this will look beautiful on lighter skin tone ladies though. I think MAC should call this a blush instead of a highlighting powder.
Sail La Vie is a really beautiful coral red lipstick. I generally steer clear of bold colors but this is rather pretty when used with a light hand. Despite the lovely color, the texture of this lipstick is surprisingly quite dry.
Overall, Hey Sailor is a fun collection with plenty of items to choose from depending on your preferences. I personally do not think any of the items are must-haves. My favorite item out of the entire collection is the 167SH brush. It is incredibly soft and works so well to blend, buff, or apply pressed powder all over the face. I also found Crew Highlighting Powder to be chalky. The lip tints are really sheer and the lip pencils are dry as well.
Bottom Line
: Check out the eyeshadows, blushes, lipglasses, 167SH brush, and eye pencils. If you're on a budget and want to pick up a bronzer, you can get some of the shades in regular packaging to save some money. Sail La Vie is the one shade that I think will be flattering on all skintones.
Did you pick up anything from Hey Sailor? Which item is must-have for you?