Dior Glacier (191) is a limited edition nail polish that was released in the Asia Exclusive Icy Halos Collection. It is described as a "a misty blue as delicate as a cloud" on Dior's website. I am head over heels with Glacier. I am so incredibly glad I was able to get a hold of it from Asia. I shall let the beauty of this shade speak for itself.
At first glance, Glacier looks like a simple baby blue nail polish that is probably dupable from other brands.
The magic really happens when you step into the sunlight. Glacier has these incredibly beautiful baby blue shimmers that adds a whole new dimension to this shade. From the brush, I can see the pretty fine shimmers.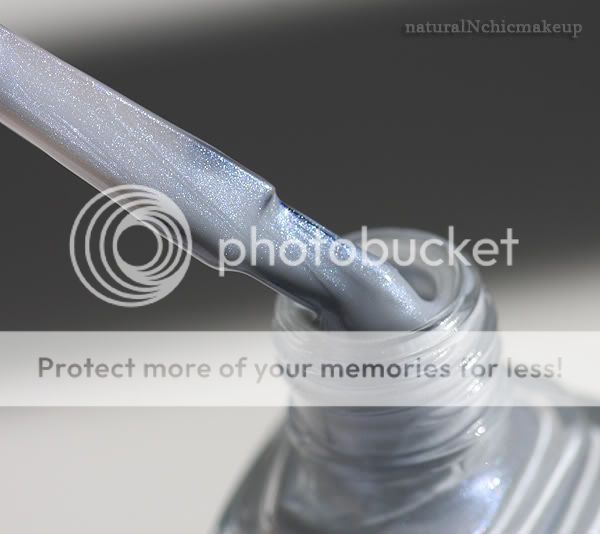 Shimmers in the bottle:
Here is Glacier on the nail under bright sunlight:
I find that this shade requires about 3 full coats to achieve full opacity. You will still see visible nail lines with 1-2 coats. In very bright sunlight or indoors, Glacier is a pastel blue.
I can see brush strokes with this formula but I don't really mind it since the color is so unique and pretty.
A close shot of the nail with flash:
Without flash:
I don't really have anything that can be considered an exact dupe of Glacier in my collection. Here are a couple of colors that I thought would come close:
Essie's Cocktail Bling turns out to be much darker but it does have the grey undertone that Glacier has. OPI's I Want To Be A-Lone Star is more muted and not as light in comparison.
Overall, Glacier is undoubtedly a winner for me. I am really glad I was able to purchase it. It is a gorgeous shade with a great formula. As Dior had stated, it really is a delicate misty blue. I consider Glacier as a chic and understated elegance type of nail color.
Bottom Line
: If you are in Asia, I highly recommend picking up Dior Glacier Vernis. I did have to pay roughly $28USD but is it definitely worth the extra $5. I personally do not think this is a dupable shade due to the way it looks on the nail and the very fine shimmers. It is a very chic color that can be worn for any occasion. I think Dior has been on a roll with their new line of nail polishes and this one is one of the few truly outstanding shades. For those in the US, I know this is currently only available on Ebay but hopefully Dior will sell it online in the near future.